BALE FRESH™
Quality You Need, Safety You Want
BALE FRESH™ – Using technology to preserve the quality and bunk life of baled hay.
Why choose Bale Fresh™?
Better long-term microbial protection to preserve the quality of animal feed hay
Performance is superior to traditional propionic acid based products
Effective at higher moisture – up to 30 percent and wide ranges of pH
Non-toxic, environmentally friendly and biodegradable
Ingredients are FDA approved, GRAS and EPA exempt
Non-corrosive to farm equipment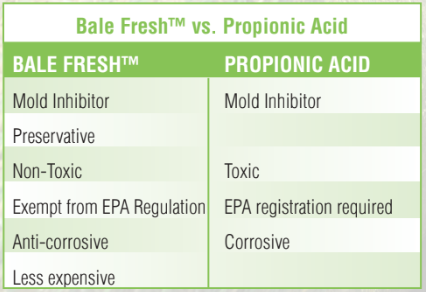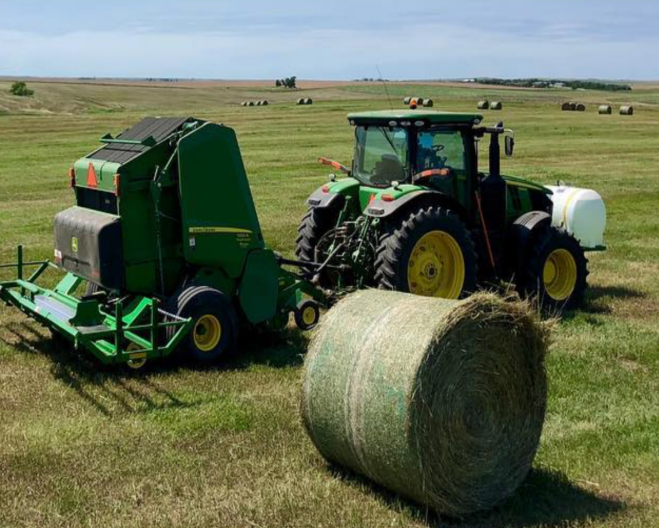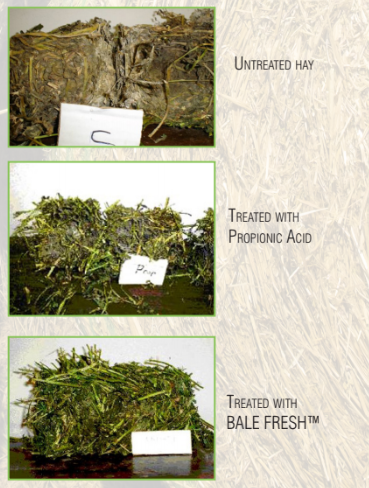 BALE FRESH™ is a patented Potassium Sorbate-based preservative providing significantly longer shelf life for baled hay and increased palatability for livestock.  Tests show that hay bales treated with BALE FRESH™ are fresher greener and mold-free longer than bales treated with propionic acid preservatives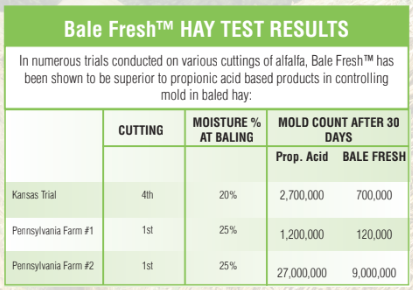 BALE FRESH™ is the first effective preservative on the market to be completely user-friendly, environmentally safe and a non-corrosive/rust inhibitor to farm equipment.
Customer Testimonial
Jorgensen Land & Cattle
"Bale Fresh™ was an excellent choice for Jorgensen Land and Cattle for 3 reasons:
Increased Feed Quality
Time Savings
Limited Wear on Equipment
Applying Bale Fresh™ to our Alfalfa hay enabled us to put up the highest quality dry hay we have ever seen at Jorgensen Land and Cattle.  Where our typical window to put up Alfalfa hay is between 15-18% moisture, we were able to put it up at moistures over 25%  Putting the hay up at 25% helped us retain nearly all the plant matter at baling time, resulting in nearly no leaf loss.  The resulting Alfalfa hay tested 24% protein, and 189 RFV.  Not only was the quality higher, but our time window to put up hay in general increased immensely.  The high-quality Alfalfa window grew from a few hours at unpredictable times, to nearly half a day in some instances.  Our window to put up grass hay widened as well.  Starting earlier and finishing later in the day,  When moistures increase past 18%, added 3-4 hours of baling time per day on all crops.  Finally, this product caused no wear on our equipment. Where other acid-based preservatives cause wear and rusting, our equipment shows no visible signs of additional wear or rusting from Bale Fresh™"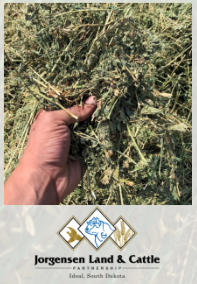 DIRECTIONS FOR USE:
It is a violation of federal law to use this product in a manner inconsistent with labeling.
Any residual chemical of any kind (in any storage or application apparatus) should be flushed completely, and the equipment cleaned thoroughly with water eliminating any residue of any kind.
FOR USE ON HAY:
Spray Bale Fresh™ on the hay as it is fed into the baler using the correct application rate indicated by the chart below:

FOR USE ON HAYLAGE:
Spray Bale Fresh™ on the hay as it is fed into the chopper using the application rate indicated be-low:
Optimum haylage moisture range 55-65% depending on storage structure – 2 to 4 lbs/ton.
FOR USE ON BALEAGE:
Spray Bale Fresh™ on the hay as it is fed into the baler using the application rate indicated below:
Optimum baleage moisture range 48-56% – 2 to 4 lbs per ton.
BALE FRESH™ containers should be protected from any and all foreign particles that could potentially clog application nozzles.
Use a reliable moisture tester to determine moisture content of the hay in the window before applying BALE FRESH™. Follow applicator instructions to calculate baling rate and set sprayer calibration. Use three nozzles to achieve complete coverage.
All application equipment should be in good working order so that good coverage is obtained (all spray nozzle openings should be clean and free of obstruction and should be placed to ensure thorough coverage).
Application of BALE FRESH™ is NOT recommended if the hay moisture level exceeds 30 percent.
Baled hay treated with BALE FRESH™ should be in a protected but well ventilated area.
Stack hay to provide maximum air movement between bales. Untreated dry hay should not be stored in contact with BALE FRESH™ treated hay.